Philippines says Duterte 'regrets' Obama insult
Comments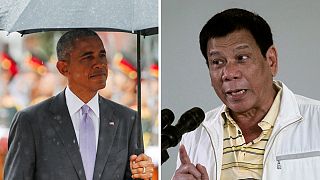 The Philippines says President Rodrigo Duterte regrets insulting Barack Obama.
US officials cancelled a planned meeting between the two leaders at a Southeast Asian summit after the Filipino president used the phrase "son of a whore" when referring to his US counterpart.
His comments at a news conference came after the White House had vowed to raise human rights concerns. An estimated 2,400 people have been killed since Duterte took office two months ago, promising to wipe out drugs and drug dealers.
"President Duterte explained that the press reports that President Obama would 'lecture' him on extrajudicial killings led to his strong comments, which in turn elicited concern. He regrets that his remarks to the press have caused much controversy," said the Philippines presidential spokesman Martin Andanar.
The Philippines says it remains committed to its alliance with the US. Washington backs Manila in its territorial dispute with Beijing over the South China Sea.
The row has overshadowed the first visit by a sitting US president to Laos. Obama wants to address the legacy of American bombing in the country during the war in neighbouring Vietnam.