What did Rodrigo Duterte call Barack Obama?
Comments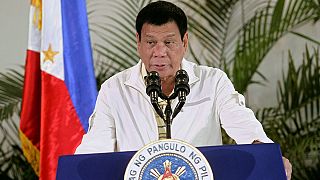 Barack Obama has cancelled a meeting scheduled with the President of the Philippines after Rodrigo Duterte swore at him during a press conference.
It comes after Washington expressed concern about a surge in drug-related killings since Duterte became president two months ago promising to wipe out narcotics.
More than 2,400 people have been killed since Duterte took office on June 30.
Campaigners have raised the question of extrajudicial killings.
Obama cancels meeting with Philippines' Duterte after insult https://t.co/Zx7grDgZ73pic.twitter.com/6SPRf8VHzk

— Reuters Top News (@Reuters) September 5, 2016
Hardliner Duterte warned Barack Obama not to question him over the surge in drug-related killings since Duterte took office two months ago.
Addressing the media on his arrival for the ASEAN summit in Laos, Duterte finished with a choice phrase in his native Tagalog, using the phrase "Son of a whore".
"I am a president of a sovereign state and we have long ceased to be a colony. I do not have any master except the Filipino people, nobody but nobody. You must be respectful. Do not just throw questions," Duterte said when asked by journalists before his departure to Laos when asked if Obama might raise the issue on extrajudicial killings in their meeting.
Speaking at the end of the G20 in China, Obama said this might not be the right time for talks.
"Historically, our relationship with the Philippines is one of the most important and my relationship with the Philippines people has been extraordinary warm and productive, so I expect that will continue, but I want to make sure that the setting is right, the timing is right for us to have the best conversation possible."