Wave of ISIL-claimed bombings in Syria kills at least 40
Comments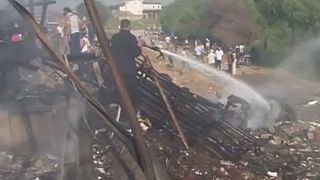 At least 40 people were killed in a series of bombings in mainly government-held areas of Syria on Monday, according to state media.
The self-styled Islamic State, or ISIL, said it was behind the attacks.
The deadliest were two explosions on the Arzouna bridge area at the entrance to Tartous, which killed 35 people, according to the Syrian Observatory for Human Rights.
Syrian state television said the first explosion was a car bomb and the second was a suicide belt detonated as rescue workers came to the scene of the first incident.
In the space of an hour, a suicide bombing struck a suburb west of Damascus, while a motorbike exploded in the northeastern city of Hasaka, which is controlled by Kurdish fighters. A car bomb also exploded in the central city of Homs. The Observatory said it hit an army checkpoint, killing four officers.
#Syria's #war: Multiple #bomb blasts hit government controlled areas including Tartous, Homs, Hasaka AJENews</a> <a href="https://t.co/nfjkvwaI7O">https://t.co/nfjkvwaI7O</a></p>&mdash; B.D. Mowell (bdmowell) September 5, 2016
Islamic State claims wave of bombings across Syria that killed at least 48 people https://t.co/oSodjEogSdpic.twitter.com/2zR4xjahEe

— Chicago Tribune (@chicagotribune) September 5, 2016
The attacks follow the recapture by the army and its allies of a district of Aleppo that rebels had seized last month.
They also came just as the G20 summit wrapped up in China, and the United States and Russia failed to reach a deal on ending the violence in Syria.
President Barack Obama said his meeting with Vladimir Putin was "constructive but not conclusive." Putin said the talks were "on the right track" and he hoped both nations would strengthen cooperation against terrorism.
Obama calls G20 talk with Putin "constructive but not conclusive." https://t.co/RqhymK7AlDpic.twitter.com/dUqLdayenT

— Slate (@Slate) September 5, 2016