Young anti-China activists take seats in Hong Kong elections
Comments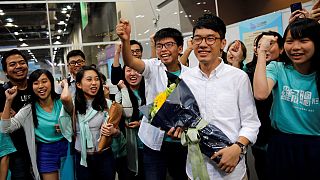 Several pro-independence and pro-democracy activists have won seats in elections for Hong Kong's Legislative Council.
The opposition has also retained its crucial veto power in the 70-seat body over major new laws and public funding in the Chinese-controlled territory.
Beijing has responded by saying it opposes efforts by certain candidates and organisations in Hong Kong's elections to promote independence. The comments made by a representative of the Department of Hong Kong, Macao and Taiwan Affairs was reported by the state-owned Xinhua news agency.
The results are likely to further strain ties with China's Communist Party rulers, who have repeatedly warned Hong Kong not to stray too far.
There was a record turnout of 2.2 million voters with some people waiting for several hours to cast their ballots. It was the first major election since the student-led, pro-democracy protests under the so-called "Umbrella Revolution" in 2014. A group of 10 young candidates campaigned on an anti-Beijing platform.
Many young people in particular have condemned what they see as increasing influence from Beijing stifling dissent and civil liberties.