Japan strongly condemns latest North Korean missile launch
Comments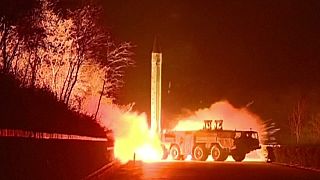 North Korea has fired three ballistic missiles into the sea off its east coast, according to the South Korean military.
They were fired from a region south of the capital Pyongyang just after noon local time on Monday and flew about 1,000 kilometres – the latest in a series of launches violating UN Security Council resolutions.
Japan called it a grave threat to its national security. Prime Minister Shinzo Abe told US President Barack Obama that the missile launch was "unforgiveable", as they met on the sidelines of the G20 summit.
"Looking at the fact that the three missiles have landed on the almost same spot at the almost same time, I think their missile technology has been substantially improved," said Japan's Defence Minister Tomomi Inada.
Pyongyang defends its right to self defence and pursue a space programme. The latest launches come as China hosts the G20 summit. The North's main diplomatic ally backs the UN's ban on all missile-related activities by North Korea.