Turkish-backed rebels clear ISIL militants from Turkey-Syria border
Comments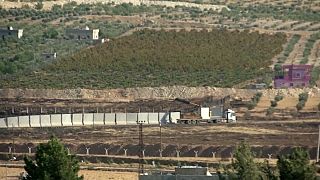 Turkish forces backed by Syrian rebels say they have driven ISIL militants out of territory along the Syrian border with Turkey.
The rebels captured the frontier between Azaz and Jarablus after taking 20 villages from the so-called Islamic State group.
It comes just one week after Turkey launched its offensive in Syria.
Meanwhile, on the sidelines of the G20 summit in China US-Russia talks to broker a ceasefire in Syria have hit a snag, but the US Secretary of State hopes they can get back on track.
"We will meet in the morning, we're gonna review some ideas tonight, a couple of things on these couple of tough issues and come back together and see where we are. And I think that's the wise and important thing to do. I've said all along we're not going to rush and we're not going to do something that we think is less than what we believe is a legitimate opportunity to be able to try to get the job done."
Back on the ground, Syrian government forces recaptured parts of southwestern Aleppo, seized by rebels last month. Rebels and a monitoring group said the advances meant that the opposition-held eastern part of the city is now under siege