Hong Kong holds first major vote since pro-democracy protests
Comments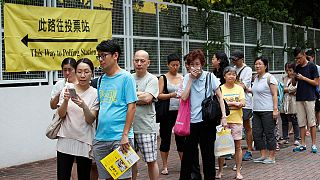 Voting is underway in Hong Kong, the first major election there since pro-democracy protests in 2014.
The poll for the semi-autonomous city's 70-seat legislative council is only partially democratic.
Leung Chun-ying, Hong Kong's current leader, was among the first to vote.
Radical activists are challenging their pro-Beijing and mainstream pro-democracy rivals for seats.
"I believe that after the Umbrella movement, there is a wide awakening of civil liberties. So hopefully today we can have a high voters turnout and use our votes to yell our discontent toward CY Leung," said Avery Ng, the Chairman of the League of Social Democrats, a radical pro-democracy party.
For two months in 2014 demonstrators from Hong Kong's Umbrella movement occupied major parts of the city.
Amid anger of Beijing's tightening grip, the protesters called on Leung Chun-ying to step down, demanding the right to elect a leader directly.