See the first images of Jupiter from Juno
Comments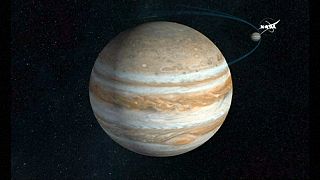 The first images of Jupiter taken by NASA's Juno spacecraft have arrived back on Earth.
The probe arrived in orbit around the biggest planet in the solar system two months ago.
The images were taken last Saturday when Juno had completed the first of 36 orbital fly-bys of the massive planet.
A whole new world. My 1st glimpse of #Jupiter's north pole looks unlike anything seen before https://t.co/OODrfqlCagpic.twitter.com/ghTlibdxaV

—

NASA

's Juno Mission (@NASAJuno) September 2, 2016
Hot stuff. During#Jupiter approach, I capturedthe planet'sglowin infraredlight https://t.co/mVWrzSlV9opic.twitter.com/9kaRIl2k9n

—

NASA

's JunoMission (@NASAJuno) September 2, 2016


Launched from Florida nearly five years ago, Juno needed to be precisely positioned, ignite its main engine at exactly the right time and keep it firing for 35 minutes to become only the second spacecraft to orbit Jupiter.