Erdogan: YPG did not cross the Euphrates river
Comments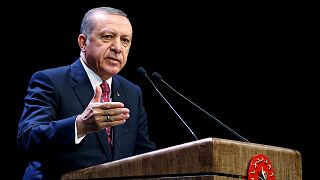 Turkey's president said that the Kurdish People's Protection Units (YPG) had not returned to the east of the Euphrates river in Syria.
Recep Tayyip Erdogan was responding to US claims that the group is withdrawing.
Erdogan said a 400 square km area had been cleared of what he described as Daesh and YPG terrorists.
"Right now, people [the United States] say they [YPG militants]crossed east of the Euphrates river. We tell them: 'No, they haven't'. We will not believe that YPG or PYD [political party] crossed to the east of the Euphrates by listening to someone's statements in the United States or anywhere else."
Turkey views the YPG as an extension of the Kurdistan Workers Party (PKK) which is listed as a terrorist organisation by Turkey, the United States and the European Union.
The PKK has been waging a insurgency against the Turkish state to push for autonomy in the southeast of the country.
Conversation: Turkey Moves Into Syria
Stratfor Deputy Editor Lynn Wise and Military Analyst Sim Tack discuss Turkey's recent incursion into Syria and the complicated alliances involved.
Conversation: Turkey Moves Into Syria
is republished with permission of Stratfor.