UK: 'Hate crime' murder probe after Polish man is killed
Comments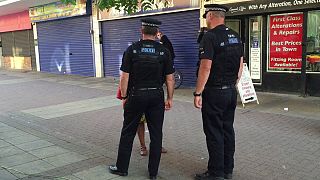 A sixth teenager arrested on suspicion of murdering a Polish man in southeast England has been freed on bail in what police believe may have been a hate crime.
Arkadiusz Jozwik, 40, was set upon outside shops in the town of Harlow, east of London. He suffered head injuries in the attack on Saturday and died in hospital on Monday evening.
A second man, 43, was also attacked and suffered suspected fractures to his hands and bruising to his stomach. He has since been discharged from hospital.
Visiting the scene on Wednesday to pay his respects, Poland's Ambassador Arkady Rzegocki said hate crimes had risen since Britain's Brexit vote.
"Poles are present in Great Britain for many, many decades, maybe even centuries, so I hope that it will never happen in the future," he told reporters.
Amb Rzegocki laid flowers at #Harlow killing site: "We are shocked but we also thank for local support since attack" pic.twitter.com/XJCzYWAqkq

— Polish Embassy UK (@PolishEmbassyUK) 31 août 2016
Asked how concerned he was about xenophobia in the UK after Brexit, Rzegocki replied:
"Unfortunately there is much more such situations after Brexit, after the Brexit referendum. We found about 15, or maybe 16 altogether such situations."
Five boys aged 15 and one aged 16 were arrested on suspicion of murder, police said. One line of investigation was that the attack was a hate crime, they said.
The group has been released on bail until Oct. 7 pending further inquiries.
Police in the United Kingdom have reported a jump in hate crime since the country voted to leave the European Union in June, following a campaign that critics said stoked xenophobia and racism.
It is a worrying trend for the estimated 850,000 members of Britain's Polish community.