Decision day for Dilma: Brazilian president awaits outcome of impeachment vote
Comments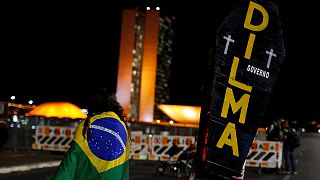 Today (August 31) could mark the beginning of a new era for Brazil, if the main prosecutor in suspended President Dilma Rousseff's impeachment trial has his way.
We believe that the cards have already been dealt.

Protester
A decision is expected on whether or not to dismiss her amid allegations she illegally manipulated the budget and plunged the country into political and economic crisis.
Prosecutor Miguel Reale Junior told senators her removal would "mark the beginning of a new era" for the country.
Crowds in Sao Paulo came out against the Senate trial, with some saying the decision was a foregone conclusion.
Juliana de Oliveira was one such demonstrator.
"It is not our intention to change the (senators') votes, because we believe that the cards have already been dealt," she said. "Our intention is to show that we are going to fight until the end, that we will fight for each and every right they try to take away, so we are going to stay on the streets for as long as necessary."
The pro-impeachment camp needs 54 out of a possible 81 Senate votes.
Rousseff, who insists she is the victim of a political coup d'état, defended her case for over 18 hours on Tuesday (August 30).
"I'm fighting for truth and justice," says #Rousseff as she describes attempt to impeach her as a "coup" https://t.co/peZFHJQWmr

— euronews (@euronews) August 29, 2016
If the final poll goes against her, Vice President Michel Temer, who took over the leadership in May when Rousseff was suspended, will serve out her term as president.
He has, reportedly, already recorded a speech to be broadcast once the Senate decision is announced.
Rousseff's dismissal would cement a political shift to the right and an end to 13 years of leftist rule by the Workers' Party.