'Do not accept the coup' - Brazil's Rousseff testifies at impeachment hearing
Comments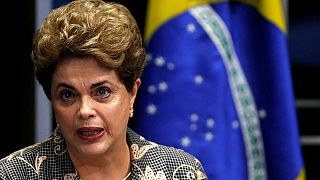 We are about to witness a "serious violation" of the constitution and a "coup d'etat." Those, the words from suspended Brazilian president Dilma Rousseff, who has been defending herself before the Senate in her impeachment trial.
She said her conservative opponents are using trumped-up charges to oust her and the future of the country is at stake.
Rousseff denies allegations of breaking budgetary rules.
"I ask you to act justly towards me, an honest president who never committed any illegal act in my personal life or in my public functions," Rousseff said during her testimony.
"Do not accept the coup, because instead of resolving the Brazilian crisis, it will make it even worse."
#Rousseff supporters outside congress as Senators grilled her in #impeachment trial. They'll stay thru final vote. pic.twitter.com/ha4AvWotzl

— Paulo Trevisani (@ptrevisani) 29 August 2016
The leftist leader warned that a conservative government would slash social spending and said Brazil's elite had set its sights on destabilising her government to protect their own interests.
Rousseff said: "Today, once again, the people who voted for me are having their wishes hurt. Our democracy is being put at risk of rupturing to protect the interests of the economic and political elite.
Dilma Rousseff warns what will happen to women, Black and LGBT achievements under an ultra-conservative government pic.twitter.com/ihEq3sy3vZ

— teleSUR English (@telesurenglish) 29 August 2016
Several hundred people chanted in support of Rousseff as she gave her testimony.
But it seems the odds are stacked against her, with the proceedings expected to oust her.
If Rousseff does go, interim president Michel Temer, 75, will be sworn in to take over the rest of her presidential term – through to 2018.
Rousseff is expected to learn her fate by Wednesday this week.
Glenn Greenwald: Rousseff Impeachment Trial Marks Complete Reversal of Democracy https://t.co/NJQknr0EOVpic.twitter.com/cOoQoBPcpY

— Tubeline News (@aenewsline) 29 August 2016