Gabon on edge ahead of official election result
Comments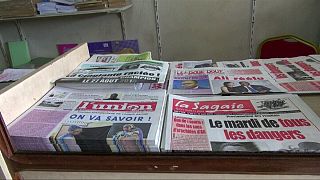 Gabon remains on edge ahead of official presidential election results in which both sides have declared victory and traded accusations of cheating.
The police and army were deployed on the streets of the capital Libreville on Tuesday, as residents, fearing unrest, reportedly rushed to stock-pile food and stayed indoors.
Incumbent Ali Bongo and his family have ruled the central African country for half a century.
Despite being urged by his rival ''to accept the will of the people'' and step down, the current president's supporters insist he is still on track to win.
.
They are said to be furious about a statement from France's ruling Socialist Party over the weekend declaring that early results in Gabon showed opposition candidate Jean Ping to be the winner.
Bitter rival Ping, who was formerly Bongo's brother-in-law, has said he is waiting for the president to call and congratulate him.