Almost 10,000 migrants rescued in Strait of Sicily in two days
Comments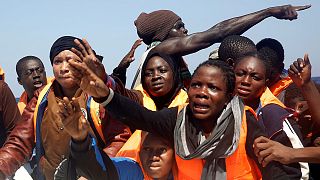 Around 3,000 migrants were rescued in the Strait of Sicily on Tuesday, in 30 separate missions.
It brings the total to almost 10,000 in two days, marking a sharp hike in refugee arrivals in Italy.
#refugees & #migrants. In the last 4 days Italy rescues 13,000 people in the Mediterranean
AP Photo/Emilio Morenatti pic.twitter.com/Zari1KbPyF

— Valerio De Cesaris (@ValerioDeC) 30 August 2016
More than 100,000 migrants have reached the country by boat so far this year, many of them setting setting sail from Libya. Some have lost their lives during the journey.
The latest to be rescued were packed on board dozens of boats, a lot of them in rubber dinghies, struggling to stay upright in the high seas. Good weather conditions have seen more setting sail.
Italy has been on the front line of Europe's migrant crisis for three years, a target for those fleeing violence and poverty at home.
During last 24 hours Italian Coast Guard coordinated rescue of +1000 #migrants and #refugees in Strait of Sicily pic.twitter.com/r9WBy3kxuw

— Matteo Meloni (@melonimatteo) 29 August 2016
6,500 migrants were rescued in the Strait of Sicily yesterday through 40 operations coordinated by the Coast Guard.

— Italy in UK (@ItalyinUK) 30 August 2016