Kim Dotcom still @ work: tech exec fights for extradition appeal to be livestreamed
Comments
By
Euronews
with
REUTERS, NEW ZEALAND HERALD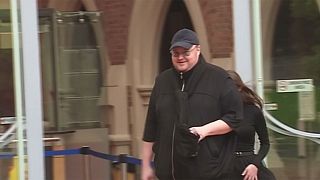 German tech entrepreneur Kim Dotcom is fighting to have the appeal hearing on his extradition from New Zealand livestreamed on YouTube.
Dotcom and three associates from his company Megaupload are accused by the US of costing film studios and record companies hundreds of millions of euros by encouraging the storing and sharing of copyrighted material.
"Livestreaming has been used successfully in New Zealand in cases of significant public interest. In this case, livestreaming is necessary to give meaningful effect to the principle of open justice," Dotcom's lawyer Ron Mansfield told the press.
Millions of innocent users lost legitimate files when US destroyed Megaupload without due process. This is the ultimate public interest case

— Kim Dotcom (@KimDotcom) August 29, 2016
The trial follows a 2015 lower court ruling that he could be sent to the United States to face charges of money laundering and copyright infringement.
However, it emerged New Zealand state authorities had illegally spied on him ahead of his 2012 arrest. Dotcom says he'll take his case all the way to the Supreme Court, if necessary.
A decision on livestreaming is expected on Tuesday (August 30).