ISIL-claimed suicide bomb attack kills at least 60 in Aden, Yemen
Comments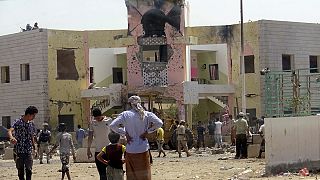 Hospital officials in the Yemeni port city of Aden say at least 60 people have died and dozens were injured in an ISIL-claimed suicide bomb attack on a military compound.
.@MSF Hospital in #Aden received 45 dead and at least 60 wounded from #Aug29 morning explosion #Yemenpic.twitter.com/yL63JxmaSv

— أطباء بلا حدود-اليمن (@msf_yemen) August 29, 2016
According to witnesses, the attacker's vehicle followed a truck delivering food into the grounds of a school, where conscripts were queueing for breakfast.
The explosion in the Mansoura district is one of the deadliest claimed by the militant group in the city.
Many of the recruits who were killed and wounded were from the Popular Committees – forces allied to President Abd Rabbu Mansour Hadi.
They were mostly in their 20s and 30s, reports suggest, and had been signing up for military training in neighbouring Djibouti and Eritrea.
Fighting between Hadi's troops and Houthi rebels intensified in March 2015. His supporters have long accused their opponents of using Islamist militants to target him.