Rebels and residents to evacuate besieged Syria town
Comments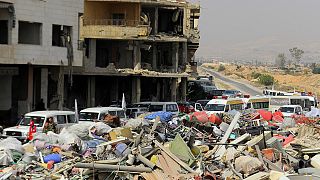 One of the longest stand-offs in Syria's five year conflict is coming to an end.
On Friday, vehicles lined up at the entrance of the besieged town of Daraya, just outside Damascus, ready to evacuate some 5,000 residents and rebels.
It follows a deal with the Syrian army which has surrounded Daraya and blocked food deliveries since 2012, regularly bombing the area just 7 kilometres from President Assad's seat of power.
#Breaking: @SYRedCrescent teams carry out their #humanitarian duty in #Darayapic.twitter.com/kFAX8WR5n7

— Syrian Red Crescent (@SYRedCrescent) 26 août 2016
Daraya was one of the first places to see peaceful protests against Assad's rule, and fought off repeated attempts to retake it by government forces as the conflict escalated into civil war.
In recent weeks, the army has escalated its bombardments, intensifying the use of barrel and incendiary bombs. Last week Daraya's only hospital was hit, rebels and aid workers said.
The surrender is seen as a victory for the Assad regime.
Fighters, who had to use trenches to get in and out of the blockaded town, have agreed to leave for rebel-held areas of northern Syria.
"We reached agreement on the evacuation of all of the people of Daraya, civilians and fighters," said Captain Abu Jamal, the head of the Liwa Shuda al Islam, the biggest of two main rebel groups inside Daraya whose fighters are drawn from its residents.
The army would reassert its control over the city and seize heavy weapons, state media said.
Before the war, Daraya was home to quarter of a million people.
"It's difficult to describe my feelings. We kept holding on for four years to the last breath. The city was destroyed over our heads and we are now not leaving a city but a pile of rubble," said Hamam al Sukri, a resident who had been living in a basement with his six-member family.
The United Nations has voiced concern, saying that civilians should only be evacuated if it is safe to do so.
UN says it was not involved in the #Daraya agreement between regime and rebels, warning: 'The world is watching' https://t.co/nHcdtHHrGu

— Lizzie Dearden (@lizziedearden) 26 août 2016
The plight of civilians in Daraya and other besieged areas, has long been of concern to the United Nations, which has condemned the use of starvation by both sides in the Syrian conflict as a weapon of war.
Authorities agreed in June to allow UN supplied food deliveries into Daraya under a cessation of hostilities deal, but just one shipment has made it since then.