Kerry and Lavrov arrive in Geneva for talks on Syria
Comments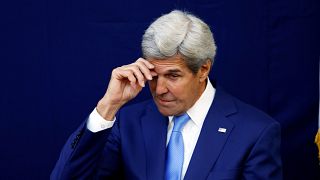 Russian Foreign Minister Sergei Lavrov and US Secretary of State John Kerry arrived in Geneva ahead of talks on Friday to work through an agreement on fighting the so-called Islamic State group in Syria. The hope is that the meeting could lead to the relaunch of peace negotiations in the war-ravaged country.
United Nations Special Envoy for Syria, Staffan De Mistura said the Geneva meeting was 'important' and that it could put peace talks back on track, but didn't say whether he would join any meetings between Kerry and Lavrov in the Swiss city.
Russia is backing the Syrian government, while Western and Gulf powers back rebel groups, a situation which complicates any talk of ceasefire, as well as getting humanitarian aid to the besieged city of Aleppo.
The UN is pushing for weekly ceasefires lasting 48 hours to get crucial aid to Syrians in Aleppo. De Mistura said that Russia has agreed, but added, "we will wait for others to do the same, but we are ready. Trucks are ready and they can leave any time we get that message."
In a separate development, Syrian rebels and government forces have agreed to evacuate residents from the besieged Damascus suburb of Daraya. It ends one of the longest standoffs in five years of civil war.
In northern Syria, Turkey sent more tanks and called on Kurdish militia to retreat within a week, as it seeks to secure the border area and drive back ISIL after taking back Jarablus from the militant group.