Italy quake: hopes fade of finding more survivors
Comments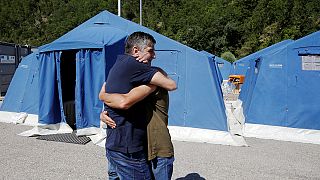 More than 48-hours after the 6.2 magnitude quake flattened several hillside villages in central Italy hopes are fading of finding anymore survivors.
On Friday morning it was revealed nobody was found alive overnight after firefighters pulled out several bodies.
"Fortunately, all my family are safe, my sister was under rubble for many hours, but she was rescued. It's a miracle because she lives in the centre and her house completely collapsed,'' said one woman in the devastated town of Amatrice.
There are fears the final number of dead could eclipse the earthquake which struck nearby L'Aquila in 2009. That killed more than 300 people.
Despite thousands of emergency staff, rescue efforts have been hampered by hundreds of aftershocks.
Fabio Fulvio a rescue volunteer said: ''We have started to deal with the bodies of victims and we'll send them to morgues in nearby Rieti and L'Aquila. We'll start the transfers when the ambulances arrive.''
While around 2,500 people are estimated to have been left homeless by the disaster, more than 200 people were killed in the town of Amatrice alone.
The first funerals are expected later on Friday.
From Amatrice, Euronews' Raquel Garcia said: ''The initial shock in the aftermath of the quake is increasingly being replaced by a mood of resignation for those whose relatives survived but lost everything else. There are others, however, who only have a victim to identify. The mortuaries continue to receive unnamed bodies.''