Waking up to no home: Italy's earthquake survivors describe their fear
Comments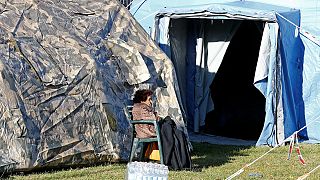 As the sun rose over Italy, hundreds of people woke up in tents and cars, displaced by the devastating earthquake across Lazio, Umbria and Marche.
Two nights ago, many were in their homes.Now they have been destroyed, some completely razed to the ground.
Local man Silvano Parla said he'd never lived through such a strong tremor.
"In this area, we've had lots of earthquakes. They happen every seven or eight years. But there's never been such a long and terrible one. In previous earthquakes, people didn't die. This time, I don't know how many deaths there will be."
"We were so scared," Arturo Onesi added. "The earthquake was long and undulating. It lasted nearly a minute and a half. We were so scared."
The Civil Protection Agency estimates some 5,000 people have been displaced. Makeshift camps have been set up by public assistance agency Anpas, while the Red Cross has sent hundreds of volunteers and vehicles and has set up two field kitchens.
Response to #ItalyEarthquake continued through the night: 426 volunteers, 109 vehicles & 2 field kitchens deployed. https://t.co/8GIexiwgPK

— IFRC (@Federation) August 25, 2016
5 Corso Umberto I, Amatrice, Italy
121 Corso Umberto I, Amatrice, Italy