Death toll in Italian earthquake reaches almost 250 as rescue effort continues
Comments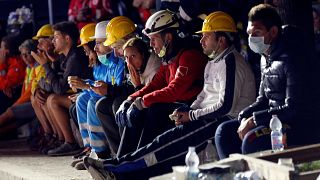 "When faced with pain, Italy shows its best side"

Italian Prime Minister
Death toll rises to at least 247
More than 360 injured
PM Renzi calls for national unity
The search for victims of an earthquake which struck central Italy in the early hours of Wednesday morning continued throughout the night.
Scores have been killed and hundreds more injured after the magnitude 6.2 quake struck a mountainous area 150km north-east of Rome, near Perugia.
Many people were buried alive in their sleep.
One hotel that collapsed in the badly hit town of Amatrice probably had about 70 guests, and only seven bodies had so far been recovered, according to the local mayor.
Volunteers and firefighters are racing to free those trapped under the mounds of rubble.
Scenes of the devastation caused by the earthquake in Italy: 15 photos https://t.co/utMxPRTo4Mpic.twitter.com/yTnXxSiMmH

— New York Times World (@nytimesworld) August 24, 2016
Italian Prime Minister Matteo Renzi called for national unity after visiting the stricken area.
"For the Italians it is a moment of showing the strongest emotions. We Italians are very good at arguing and being critical but when faced with pain, Italy shows its best side. I believe we must all be proud of our firefighters, the army officers and the civil protection agents."
Since the initial quake there have been 250 aftershocks, some of them as strong as 5.5.
The army has been mobilised in the rescue effort and field hospitals set up where its too dangerous to treat patients indoors.
Most of the damage was in the Lazio, Marche and Umbria regions which are dotted with centuries-old buildings susceptible to earthquakes.
Italy sits on two fault lines, making it one of the most seismically active countries in Europe.
The last major earthquake to hit the country struck the central city of L'Aquila in 2009, killing more than 300 people.
Italy is an ancient and vulnerable place. It needs maintenance, respect and resources. https://t.co/FfY2GWHlkTpic.twitter.com/Yhcgd18DRh

—

NYT

Opinion (@nytopinion) August 24, 2016