Rescue bid continues despite fading hopes for Italy quake victims
Comments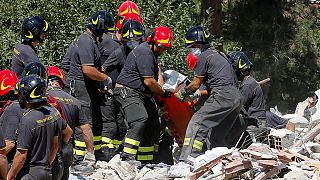 Hopes of finding more people alive after Italy's earthquake are diminishing by the hour but search teams continue to scour the rubble.
The 6.2 magnitude quake happened in the early hours of Wednesday morning but survivors could still be brought out and that is reason enough to keep on trying, day and night.
Those taking part come from far and wide.
"We spent our vacation in Italy. We would like to help with action because we are specialists in rope rescue and cave rescue," said Jakub Ochnio of Search & Rescue Poland.
"We are from Rome but there are firefighting teams from many parts of Italy," said Marco Piergallini, a firefighter from the Italian capital.
"Wait, something is happening," he told our reporter, before quickly returning to the rescue frontline in the shattered community of Amatrice.
Rescue crews using bulldozers and their bare hands race to dig out survivors from Italy quake that killed 247. https://t.co/11y1UPQgHI

— The Associated Press (@AP) 25 août 2016
A hotel that collapsed in Amatrice, the Hotel Roma, probably had about 70 guests and only seven bodies have been recovered so far. However, up to 30 guests are thought to have been able to escape before the building came down.
Quake: 'Many' fled Hotel Roma say owners (2) - Guests got out before tremor hit says deputy mayor https://t.co/cnSDEBgYlQ

— Ansa English News (@ansa_english) 25 août 2016
More details are emerging about those caught up in this catastrophe – tourists, nuns in a collapsed convent, children spending the end of the summer holidays with their grandparents.
For now some 5,000 people, including police, firefighters, army troops and volunteers, are involved in post-quake operations.
5 Corso Umberto I, Amatrice, Italy
121 Corso Umberto I, Amatrice, Italy