Brazil: suspended President Dilma Rousseff's impeachment trial opens
Comments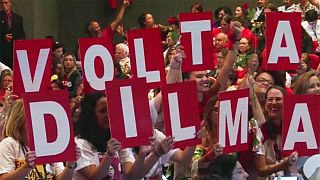 Suspended Brazilian President Dilma Rousseff is officially on trial, on accusations of breaking budget laws.
"Once again the Senate is assembled to fulfil its constitutional power in deciding the future of a president elected by popular vote and accused of having committed impeachable offences," Ricardo Lewandowski, the President of Brazil's Supreme Court announced.
Lewandowski reminded the Senate to vote as individuals and to put aside their political views.
A newspaper poll published as her trial was due to open suggested 51 senators would vote to dismiss the country's first ever female leader, while 11 were undecided. Just 19 senators would support Rousseff, it found. 54 votes are needed to convict her.
She will appear to plead her case before the 81-member body on Monday. If found guilty, she could be removed from office and replaced decisively by Vice President Michel Temer as early as Tuesday evening.