Syrian Kurdish and government forces agree Hasaka ceasefire
Comments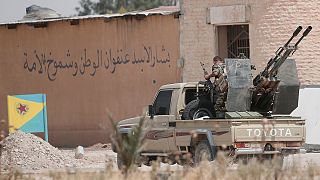 The aim is stop fighting in the Syrian city of Hasaka. Syrian Kurdish and government forces have reportedly agreed a ceasefire, which has already come into effect.
The Kurdish YPG militia – which already holds swathes of northeastern Syria – is said to have taken near full control of Hasaka city in fighting that erupted last week.
Meanwhile, in Aleppo, the Syrian army and its allies appear to have intensified attacks on fighters from a group formally known as the Nusra Front.
Video released by officials under control of the government appears to show air raids, shelling and firing on college buildings in the city.
The battle for Aleppo, the country's largest city and former commercial heart, is pivotal for the civil war.