Russia loses appeal against Paralympics ban
Comments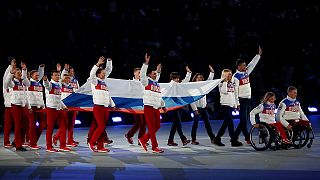 Russia won't take part in next month's Rio Paralympics after the Court of Arbitration for Sport (CAS) upheld a ban imposed over the state-sponsored doping scandal.
Sport's highest tribunal on Tuesday rejected Russia's appeal against the decision by the International Paralympic Committee (IPC) to exclude the entire Russian team from the Sept. 7-18 event.
CAS said its panel found the IPC "did not violate any procedural rule in dealing with the disciplinary process" which led to Russia's suspension from the event.
It added that the ruling was "proportionate in the circumstances" and that the Russian Paralympic Committee "did not file any evidence contradicting the facts on which the IPC decision was based".
Russia FAIL in appeal to overturn ban on athletes at Paralympics https://t.co/TyzGUr2dkvpic.twitter.com/cLnX6IJ0OF

— MailOnline Sport (@MailSport) 23 août 2016
The IPC had gone further than the International Olympic Committee (IOC), which stopped short of a blanket ban on Russia at this month's Rio Olympics, leaving the decision instead in the hands of international sports federations.
The scandal centres on a report for the World Anti-Doping Agency (WADA) that found the Russian government and the FSB security service had over years covered up hundreds of doping cases across the majority of Olympic sports, as well as Paralympic events.
Moscow has said that the IPC's decision is politically motivated and will punish dozens of innocent athletes.
Russian media reports say the sports committee of the country's lower house of parliament is now considering its response to the latest decision.
Russian lawmakers are preparing response to #CAS' #Paralympics ban https://t.co/ML7DG9knLkpic.twitter.com/ALwJ0oW2iI

— Sputnik (@SputnikInt) 23 août 2016