Turkey's fighting talk ups ante in Syria's long and complex war
Comments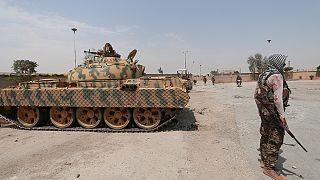 Turkey is upping the ante against ISIL, with Ankara saying its "ready to do what it takes" to drive the militants out.
This amid a long and complex war engulfing its Syrian neighbour.
Turkish-backed Syrian rebels are readying an attack to seize the Syrian town of Jarablus from ISIL.
It is set to be targeted from inside Turkey in the next few days.
Success would deny control to advancing Syrian Kurdish fighters – fighters Turkey fears could add momentum to an insurgency by Kurds on its own territory.
The Kurdish YPG militia, meanwhile, have launched an assault to seize the last government-controlled parts of the northeastern city of Hasaka.
Recent fighting has marked the most violent confrontation between the YPG and Damascus in the war so far.
The Kurdish militia is at the heart of a US-led campaign against ISIL.
Thousands of people have fled Hasaka, where the Syrian army's deployed war planes against the group for the first time.
The loss of the city would be a big blow to Damascus and Moscow, which is trying to help the government regain territory.