Turkey backtracks on who was behind Gaziantep wedding blast
Comments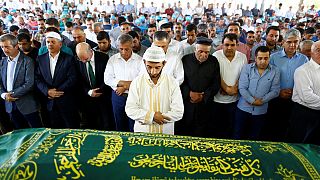 Turkey continues to bury its dead after Saturday's suicide blast at a Kurdish wedding in the southeastern city of Gaziantep.
At the same time, the country's prime minister backtracks on an earlier statement by President Recep Tayyip Erdogan that the attack was carried out by a child.
Ankara had said evidence pointed to the so-called Islamic State.
Now Binali Yildirim says that early indications were not correct.
"It is not appropriate [to make] early assumptions about who carried out this attack and which organisation did it," said Yildirim.
"It is not [certain] yet who did this. Whether he was a child or an adult. Of course our security forces have concentrated on that," Yildirim added.
The attack killed 54 people including 22 children, making it the deadliest in Turkey this year.