Portugal braces itself for diplomatic row with Iraq over brutal attack
Comments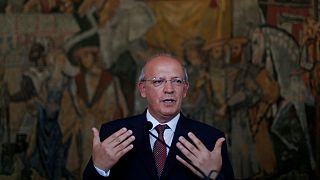 Portugal's government is considering asking Iraq to remove its diplomatic immunity from the sons of its ambassador after they allegedly attacked a 15-year-old boy.
The request will depend on the outcome of a police investigation into the matter.
The 17-year-old twin sons, who may have already fled Portugal, are suspected of carrying out a brutal attack following a row in a bar.
The teenager who has been named locally as Rubin was air lifted to a hospital in Lisbon where he is said to be in a coma.
One of the twin brothers allegedly ran the victim over with a car registered to the Iraqi embassy and the other punched and kicked him on the ground,
The incident took place in the town of Ponte de Sor, where one of the twins is training to become a pilot at a nearby air base.
Iraqi government employees and family members act like this abroad, imagine what they do in Iraq https://t.co/YbB4louJLp

— Serko Şîvarmenî (@LifeOfSerko) August 19, 2016