'Kidnapped' boy wearing 'explosive belt' arrested by Iraqi police
Comments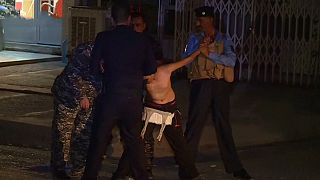 Footage from Kurdish television purports to show a distressed young boy wearing an explosive belt.
Two police officers in the northern Iraqi city of Kirkuk hold the boy while a third takes the belt from around his waist and tries to disarm it.
The police chief said the child was carrying two kilos of TNT explosive materials.
The boy reportedly claimed he was kidnapped by terrorists and forced to blow himself up.
The capture of the boy comes two days after a deadly attack in the Turkish city of Gaziantep. The county's president said that was also carried out by a child aged between 12 and 14.