Turks hold government responsible for latest deadly attack
Comments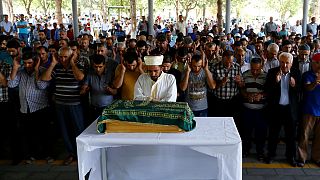 A suicide bombing which killed at least 51 people during a wedding in the Turkish city of Gaziantep sparked anti-government protests on Sunday.
Hundreds of Turks took to the streets of Istanbul saying not enough was being done to stop terrorist attacks.
"The massacres' (perpetrators) without any doubt are those who attacked Suruc, Ankara, those who have been bombing Kurdish towns for more than a year. The outcome of these attacks is that we understand that the only way to prevent these massacres is social peace," said one protester.
Saturday's bombing happened as guests at the wedding spilled out into the streets of the city close to the Syrian border after the traditional henna night party, when guests have their hands and feet painted.
Women and children, including a three-month-old baby, were among the dead, witnesses said.
The suicide bomber is thought to have been aged between 12 and 14.
Turkish President Recep Tayyip Erdogan has laid the blame for the attack which was the country's deadliest this year, firmly at the door of ISIL extremists.
In a written statement published by local media (in Turkish), Erdogan argued there was "no difference" between ISIL, the Kurdish militants of the PKK, and followers of US-based cleric Fethullah Gulen, whom he blames for the coup attempt last month.
Meanwhile Selahattin Demirtas of the pro-Kurdish Peoples' Democratic Party (HDP) visited families of some of the victims. The wedding had been for one of its members. He called on the government to work with his party against terrorism.
"If a child in Gaziantep comes and blows himself up, this is not the child's decision and this activity is not something that a child is able to do. They cannot do this without getting support from intelligence etc. As the government, if you don't work to (resolve) this…"
Turkey has been rocked by a wave of of attacks in the past year that have either been claimed by Kurdish militants linked to the outlawed Kurdistan Workers' Party or blamed on ISIL.
Anger, grief after Turkey wedding bloodbath https://t.co/kNeRkF9MNUpic.twitter.com/q9YDCynhMD

—

AFP

news agency (@AFP) August 21, 2016
#PopeFrancis offered his Sunday Angelus for the victims of the wedding terror attack in Turkey: https://t.co/QUzYIFaoFb

— Catholic News Agency (@cnalive) August 21, 2016
Recent attacks in Turkey
More than 100 people were killed in a double suicide bombing at a Kurdish peace rally in Ankara (2015 )
Ten people die in suicide bombing in Istanbul.(January 2016)
Twenty-eight die in attack on a military convoy in Ankara (February 2016)
Thirty-seven die in suicide bombing in Ankara (March 2016)
Forty-one die in gun and bomb attack on Istanbul main airport. (June 2016)