Erdogan says Kurdish wedding suicide bomber was a "child"
Comments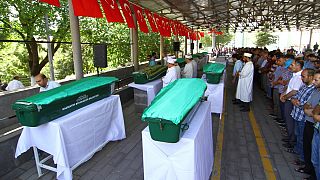 At least 51 people are now known to have died when a suicide bomber attacked a Kurdish wedding in the south-eastern Turkish city of Gaziantep.
The wedding was for members of the the pro-Kurdish opposition HDP party. At least another 69 were wounded, with 17 of them in a serious condition.
The government has blamed ISIL for the attack but no-one has yet claimed responsibility.
Gaziantep is a refuge from people fleeing fighting elsewhere in the south-east, and some victims were people who had thought they had escaped the violence that is escalating between Ankara and the PKK Kurdish militants.
"Our friends and neighbours were there. We are sad and in pain. The attack was carried out like an atrocity. We want to end these massacres. We are in pain, especially the women and children," said eyewitness Ibrahim Ozdemir.
A number of government ministers and the president himself have visited the scene of the attack, and Recep Tayyip Erdogan has said that the suicide bomber was "a child aged between 12 and 14".
The bombing is the worst single deadly attack in Turkey this year.