Tunisia's next prime minister names new cabinet
Comments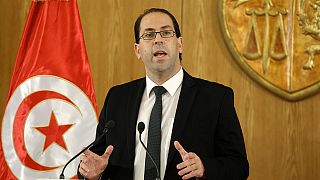 Tunisia's prime minister designate has named his new government, appointing an inclusive team with an eye to implementing economic reforms.
Three key figures – the interior, defence and foreign ministers – retain their posts in a sign that continuity is sought in the fight against extremist violence in the name of Islam.
A former investment official, Lamia Zribi, has been named as finance minister. Keeping their posts in the cabinet were Interior Minister Hedi Majdou, Defence Minister Farhat Horchani and Foreign Affairs Minister Khemais Jhinaoui, a move seen to keep continuity in the delicate fight against Islamist militants.
Youssef Chahed, named premier after his predecessor was dismissed in a no-confidence vote, said the security system was being strengthened in the fight against terrorism, while cooperation in the battle against corruption was being reinforced.
Tunisia has struggled with militant violence – notably suffering two major terror attacks against tourists last year.
The industry that accounts for eight percent of the economy has been badly hit.
The government's reforms are likely to include spending cuts while trying to attract foreign investment. Meanwhile keeping secularist, Islamist and leftist parties on board will be a major challenge.