Rescued migrants arrive at Augusta, Sicily on board navy ship
Comments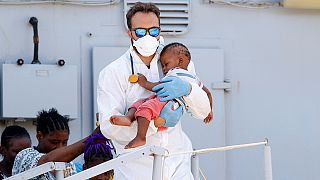 Rescued migrants have arrived at the Sicilian port of Augusta on board a navy vessel.
Seven operations between Libya and Sicily picked up 576 people in the Mediterranean Sea over the weekend.
Also recovered was the body of a young Somalian who died from tuberculosis during the journey.
Another group of migrants were rescued off the coast of Libya by a Norwegian ship.
One person who needed medical assistance was evacuated by a coastguard helicopter.
Many of those rescued in the Med attempt the long, dangerous journey from north Africa to Sicily on overcrowded boats.
The shorter and safer route from Turkey to the Greek islands has been largely shut down since last year, when it was a prefered route for migrants heading to Europe.
The weekend rescues came as Germany tightened border controls with neighbouring Switzerland. The Swiss finance minister called it evidence that Germany has withdrawn its welcome mat for migrants.