Lochte apologises but insists he did not lie
Comments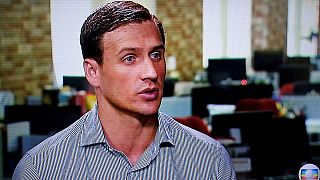 Disgraced US Swimmer Ryan Lochte has made an apology to the nation on American TV after his antics at the Rio Olympics.
He and three other swimmers got involved in an argument with security guards at a petrol station and were made to pay for damage to the station's bathroom. The group then claimed to police they had been robbed at gunpoint.
"That's why I'm taking full responsibility for it is because I over-exaggerated that story and if I had never done that we wouldn't be in this mess. Those guys would never be in Rio, or were in Rio, none of this would have happened and it was my immature behavior," said Lochte.
The US press, where Lochte is a permanent feature because of his reality TV show and has a reputation for not being the sharpest knife in the drawer, has generally taken a mocking tone. A far cry, note some, for the often hateful reaction to gold-medal-winning African American gymnast Gabby Douglas who was deemed not to have honoured the flag and anthem at her medal ceremony.