Iraq executes 36 men for massacre of military recruits near Tikrit
Comments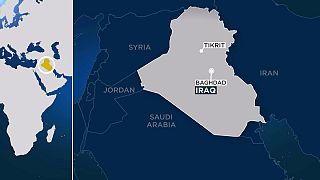 Iraq has executed by hanging 36 men who were convicted over the killings of up to 1,700 military recruits at former US base Camp Speicher near Tikrit in 2014.
The scale of the massacres committed by the men only became clear in 2015, when the base was recaptured by Iraqi forces from ISIL, which continues to control Iraq's second city, Mosul.
Family members of the recruits, who were kidnapped before being put to death, were invited to witness to executions. At least 400 were shi'ites, seen as heretics by ISIL, and the killings led to a surge in their numbers applying to join the Iraqi army.
Each victim was killed individually, thrown in the Tigris river, or buried alive. Evidence was uncovered in 2015 with the discovery of mass graves near Tikrit.
The UN has expressed concern at the legal process leading to the executions, which Iraq's president has promised to speed up following last month's car bomb in Baghdad which killed 300 people.