Items from Muhammad Ali's life to be auctioned
Comments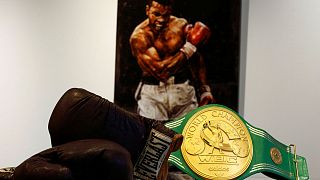 Nearly 80 items closely linked to the life of Muhammad Ali who died earlier this year are being auctioned.
The internet sale of mostly collector's items includes the first of the boxer's heavyweight championship belts ever offered at auction.
Also up for grabs are the shorts Ali wore in his famous 1974 "Rumble in the Jungle" fight against George Foreman in Zaire, and the robe he wore during a 1976 fight against Ken Norton III.
Another highlight is a handwritten letter Ali wrote to Life magazine in 1964 announcing he was changing his name from Cassius Clay.
The sale organised by Heritage Auctions in New York will conclude on September 10.