Donald Trump appears naked in US cities... in statue form
Comments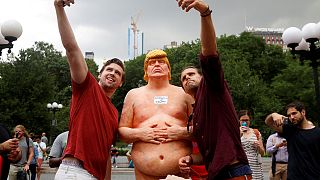 Nude statues of Donald Trump – together with the slogan "The Emperor Has No Balls" – have been appearing in several American cities.
An activists' group calling itself INDECLINE including artists, musicians and filmmakers has claimed responsibility for their depiction of the Republic presidential candidate in his barest form.
"I think it's brilliant. He needs to be brought down a peg. He thinks he's the greatest thing on earth and this is a very accurate depiction of who he really is," said Curtis Jensen in San Francisco.
"It's grotesque, even more so in person than it is in photos and it suits his personality perfectly," said another onlooker, Diane Acosta.
The rather unflattering statues of the Republican presidential candidate turned up not only in San Francisco, but also in Los Angeles, New York, Cleveland and Seattle.
INDECLINE says its fleeting installations represent Trump's fleeting nightmare before his inevitable fall.
In New York he has already gone. Justifying its decision to take the offensive statue down, the Parks Department made no comment on grounds of taste, stating simply that any structure that was unapproved was illegal.
A Trump spokeswoman did not respond immediately to a request for comment.
Thank you #INDECLINE for #nakedtrumppic.twitter.com/8Vwa6kWIlc

— Kora Raving (@ravingrunner) August 19, 2016
Trump sculpture in Union Square today #INDECLINE#nyc#Decision2016pic.twitter.com/s9b3rjAtwG

— Dennis Gault (@DennisGault) August 18, 2016