Typhoon Dianmu heads for southern China
Comments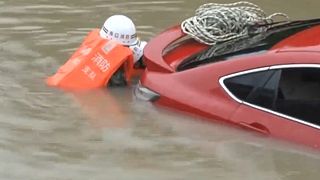 Southern China is braced for rain and strong winds.
Typhoon Dianmu is scheduled to make landfall in Guangdong Province on Thursday evening.
A slow-moving storm
Dianmu is a slow-moving storm and is not particularly strong.
It is expected to cause heavy rainfall over parts of Guangdong, Hainan and Jiangxi provinces.
Entire villages submerged
The typhoon has already dumped heavy rainfall across the Leizhou peninsula, leaving entire villages submerged in places.
After leaving Guangdong, the typhoon is expected to gather strength as it crosses the Gulf of Tonkin before making landfall in Vietnam.
In tweets
#Typhoon#Dianmu hits southern #China, bring heavy rainfall, could cause landslides https://t.co/x1JVLH1BN2pic.twitter.com/JaKZ0jyxj1

— China Plus News (@ChinaPlusNews) August 18, 2016
Typhoon #Dianmu hits #China, bringing heavy downpours to south provinces https://t.co/UG2zAN0Ovnpic.twitter.com/elQKQw42PS

— China Xinhua News (@XHNews) August 18, 2016
Tropical storm #Dianmu also doing a cool job of styling my eldest's hair! pic.twitter.com/lhvRyEY8Yn

— James Reynolds (@EarthUncutTV) August 18, 2016
Moody sky over Hong Kong's Victoria Harbour as tropical storm #Dianmu pulls away to the west pic.twitter.com/V4yTiL57hA

— James Reynolds (@EarthUncutTV) August 18, 2016