Russia stripped of Beijing Olympic relay gold for doping
Comments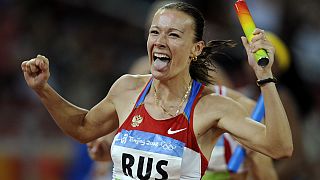 RIO DE JANEIRO – Russia was stripped of a relay gold medal from the 2008 Beijing Games on Tuesday after one its athletes failed a retrospective doping test.
Yulia Chermoshanskaya, 30, tested positive to stanozolol and turinabol, and has been disqualified from the women's 4×100 metres relay alongside her teammates and the gold medal withdrawn.
The Russian sprinter was also disqualified in the women's 200 metres final where she placed eighth, the International Olympic Committee (IOC) said in a statement, asking athletes' governing body to consider any further sanctions.
Regulations stipulate the entire team lose medals in a relay if one of the runners fails a doping test. The three other Russians set to lose their gold from four years ago include Yulia Gushchina, Alexandra Fedoriva and Evgeniya Polyakova.
Belgium's quartet of Olivia Borlee, Hanna Marien, Elodie Ouedraogo and Kim Gevaert now stand to be upgraded to gold, with Nigeria moving to silver and Brazil to bronze.
The Jamaican and British teams were disqualified in the 2008 final after they dropped a baton, while the United States failed to progress past the heats altogether after they dropped a baton.
The IOC said Chermoshanskaya claimed she had been injured in the run-up to the 2008 Beijing Games and received injections on medical advice. Olympic officials said she should have declared the injections at the time.
Stanozolol is considered one of the most traditional steroids. Canada's Ben Johnson most infamously returned an adverse analytical finding for the drug at the 1988 Seoul Games, where he was stripped of individual gold in the men's 100 metres.
The IOC's announcement is the latest doping controversy for Russia emerging from the Rio Olympics. The country's track and field team are already banned from all international competition for systematic, state-directed doping.
Last month an independent World Ant-Doping Agency (WADA)-commissioned McLaren report confirmed widespread doping in Russia, including at the 2014 Sochi Olympics.
Investigations are also ongoing into systematic doping in other winter and summer Olympic sports in Russia.
Chermoshanskaya is so far the seventh athlete formally sanctioned in the 2008 Beijing and 2012 London Games doping test re-analysis programme. Using enhanced techniques, the IOC has caught 98 athletes after retesting more than 1,000 samples.