Four militants killed in Russia anti-terror raid
Comments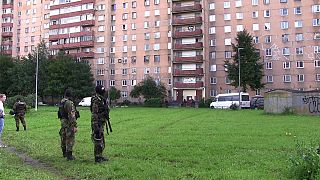 Four militants have been killed after Russian special forces stormed an apartment in St Petersburg as part of an anti-terrorism operation – according to officials.
The Russian Investigating Committee says the men were on a wanted list of suspected members of a group in the volatile North Caucasus region.
"First, there were four loud bangs, then a series of shots. Then bangs and shots again," described a local resident.
"Balcony windows on the other side of the house were blown away."
Officials say three of the four men killed had been senior figures in the criminal underworld – responsible for a string of terror attacks and attempted assassinations of police officers.
Weapons, ammunition and improvised explosive devices are said to have been found in the raided apartment.