Treasure hunters excavate site of a buried Nazi "gold train"
Comments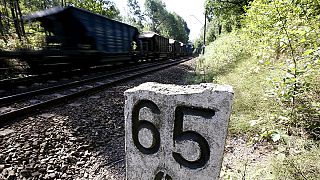 A team of treasure hunters searching for a Nazi "gold train" have started excavations on the sight where the legendary train supposedly vanished in southwest Poland near the Czech border 1945.
Six independent companies using radar technology have detected the evidence of a tunnel on the site.
From The Economist Espresso: Treasure hunt: Poland's elusive gold train https://t.co/Zt8ypuLxE9

— Veeken (@loglog_vc) August 16, 2016
Andrzej Galik is a member of the search team:" I have to admit the results of the
ground-penetrating radar examinations are very promising. There is no coincidence every radar showed anomalies indicating the existence of a tunnel."
Searchers in Poland begin to dig for Nazi "ghost" train believed to be full of treasures https://t.co/Fp5qAcDxpq

— ABC7 Eyewitness News (@ABC7) August 16, 2016
The search continues despite scientists saying late last year that there is "no evidence" that the train exists. Treasure hunters have been searching for the train for decades.
The research team have 10 days to complete the dig, local media reported.