Tensions rise over EU-Turkey migrant deal
Comments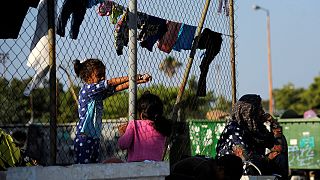 Ankara and Brussels are on a collision course over their migrant deal. Turkey has repeatedly warned it will walk away from the agreement to accept refugees heading to Europe unless the EU agrees to waive visa restrictions.
President Erdogan argued Brussels had little choice in the matter saying: "Europe is shaking in fear as a result of the migration crisis due to the humanitarian crisis in Syria. Our nation is taking care of around three million Syrians. EU countries have taken just 3,000, 5,000 or 10,000 people. European countries don't know what to do. They were at the point of ignoring human rights."
Visa-free access to the EU has been delayed due to a dispute over Turkey's anti-terror laws and a post-coup crackdown which has seen tens of thousands of people detained.
Germany's European Affairs Minister Michael Roth told the Reuters news agency: "Turkey faces a very long and difficult path. The criteria must be fulfilled, and it doesn't look good at the moment. But I want to make clear that we want and need a European Turkey".
The European Commission appears split on the matter of visas. While one Commissioner said it had fallen off the agenda due to the post-coup purge, another one said that the plan would be put in place after the summer break.