Turkey raids private businesses in post-coup crackdown
Comments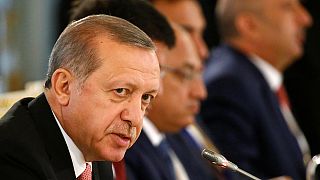 In Turkey the post-coup purge shows no signs of waning.
A new decree will see new dismissals in the foreign and interior ministries as well as the coastguard and army, while police launched raids on dozens of companies.
The prime minister aimed to calm fears over the scale of the purge saying only those with links to US-cleric Fethullah Gulen, accused of organising the putsch, were being targeted. He added:
"No doubt, Fetullah Gulen will be held to account for the attempted putsch. No doubt, those responsible for the blood of our martyrs will be brought to account. A person dies only once when executed. There are tougher ways to die than the death (penalty) for them. That is an impartial and fair trial."
More raids
Turkish police have launched simultaneous raids on 44 companies in Istanbul.
The state-run agency Anadolou says they have obtained warrants to detain 120 company executives as part of the investigation into last month's attempted military coup.
Police began searches in the Uskudar and Umraniye districts of Istanbul.
What are the accusations?
Anadolou says the companies were accused of giving financial support to the movement of US-based Muslim cleric Fetullah Gulen.
Ankara has accused him of orchestrating the July 15 coup. He denies any involvement.
Turkish President Recep Tayyip Erdogan accuses Gulen of harnassing an extensive network of schools, charities and businesses, in Turkey and abroad, to build a "parallel structure" aiming to take over the country.
He has vowed to cut off the revenues of businesses linked to Gulen, describing them as "nests of terrorism" and promising no mercy in rooting them out.
The post-coup crackdown
Since the coup, more than 35,000 people have been detained, 17,000 of whom have been placed under formal arrest.
Tens of thousands more have been suspended in what is being seen as a purge of Turkey's military, law-and-order and justice systems.
Did the crackdown only begin after the coup?
No.
The Turkish authorities had already seized Islamic lender Bank Asya.
They also took over or closed several media companies and detained business figures on allegations of funding the cleric's movement.