German launches knife attack on passengers on board an Austrian train
Comments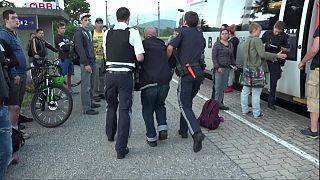 A 60-year-old German man has carried out a knife attack on passengers on a regional train in Vorarlberg, Austria seriously wounding two people.
The man stabbed a 19-year-old in the stomach and back and then knifed a 17-year-old in the throat wounding him seriously.
Three people injured in knife attack on Vorarlberg train https://t.co/6rrrKgcZcbpic.twitter.com/P5MIrNEwDh

— Ruptly (@Ruptly) August 16, 2016
The attacker was apprehended by police after using pepper spray to subdue him.
A third passenger who assisted the police suffered hand injuries.
Authorities say he was carrying papers refering to his mental health problems.