US: man shot by police was holding loaded gun
Comments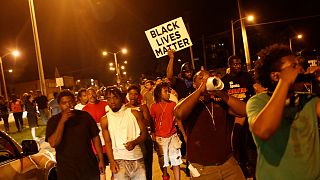 The mayor of the US city of Milwaukee says a still image pulled from a police officer's body camera shows "without question" that the black man shot by an officer was holding a gun in his hand at the time of the shooting.
I want our community to know that he had a gun in his hand
23-year-old Sylville K.Smith was shot after a traffic stop on Saturday.
His gun held 23 rounds of ammunition.
Tom Barrett says 23-year-old Smith was more heavily armed than the officer.
"I want our community to know that he had a gun in his hand. Now, the police officer did not know that at the time, but there were 23 rounds in that gun, which means he had more bullets in his gun than the police officer had in his gun."
"And, at the appropriate time, the state of Wisconsin will make available that body cam video, because there will be questions – undoubtedly there will be questions – that arise from that."
Aiming to reassure the community that the police had acted properly, Chief Edward Flynn said the officer's body camera footage show Smith had turned toward him with a gun in his hand after a traffic stop.
Have there been protests?
Yes.
The incident has sparked an outbreak of arson and rock-throwing in the city, which is in the state of Wisconsin.
Tensions rose on Sunday night.
One person was shot in the neighbourhood.
Small groups of around 100 protesters had gathered to hold vigils.
Police tried to disperse crowds after shots were fired and objects thrown.
On Saturday, gunshots were fired, six businesses were destroyed by fire and police cars were damaged.
17 people were arrested. Four police officers were treated for injuries.
State governor Scott Walker has activated the National Guard.
What about the officer in question?
Police chief Edward Flynn said the officer in question – who is himself black – is staying out of town with relatives.
The decision was taken after social media users tried to identify him.
The context
Police violence against African-Americans has set off intermittent protests in the last two years.
It has ignited a debate over race and policing in the US and given rise to the "Black Lives Matter" movement.
Five officers were slain by a sniper in Dallas last month as they provided security at an otherwise peaceful protest against police killings.
Three officers were killed by a gunman in Baton Rouge ten days later.