Police officer in Milwaukee shooting "acted lawfully"
Comments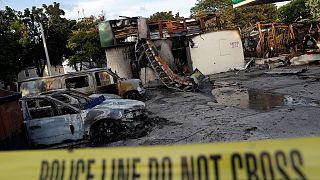 A police officer who fatally shot a black suspect in the US city of Milwaukee appears to have acted lawfully, according to a senior police official.
The shooting on Saturday is said to have resulted after the armed suspect who was being chased by police refused to drop his gun. It's not known if he tried to fire it.
Milwaukee's police chief, Edward Flynn expressed support for the officer:
"I also know that there's been a lot of work on social media trying to identify him (the police officer), so there are a number of people here who want to do that officer harm. He happens to be African-American and he has several years of (police) experience and is a very active officer. We are concerned for his safety and he has been staying with relatives out of town."
The fatal shooting was followed by riots in the city with cars and buildings, including a petrol station, being set on fire. On Sunday the clean up began as the governor of Wisconsin put the National Guard on standby should more violence occur.
People chanting "Black Power!" #MilwaukeeUprisingpic.twitter.com/rC2R7YeMsQ

— Baltimore

BLOC

(@BmoreBloc) August 14, 2016
Police violence against black men and women has set off intermittent, sometimes violent protests in U.S. cities including Ferguson, Missouri, Baltimore, New York, Baton Rouge, Louisiana, and St. Anthony, Minnesota, in the past two years.
The outrage has given rise to the Black Lives Matter movement and touched off a national debate over race and policing in the United States.
There also have been deadly ambushes of police this summer. Five officers were slain by a sniper in Dallas in July as they provided security at an otherwise peaceful protest of police killings. Three officers were killed by a gunman in Baton Rouge less than two weeks later.
#NationalGuard activated in the wake of #MilwaukeeUprisinghttps://t.co/FBsTd6Q51I

—

USD

Solutions (@USD_Solutions) August 14, 2016