Violent protests in Milwaukee after police shoot dead armed suspect
Comments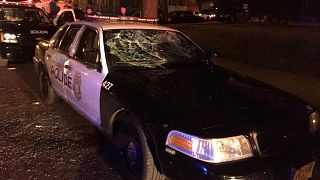 Anger has erupted into violence in the US city of Milwaukee, after police shot and killed an armed suspect.
Protesters have hurled bricks, fired gunshots and set a petrol station on fire.
The 23-year-old suspect is said to have died after trying to run away from officers following a traffic stop.
"A Milwaukee police officer with six years of experience started chasing the individual, who was running to the east," explained Tom Barrett, Mayor of Milwaukee.
"He ordered that individual to drop his gun. The individual did not drop his gun, held the gun, or I should say I don't know that for a fact, but had the gun with him, and the officer fired several times."
Violence erupts in Milwaukee after fatal shooting by police https://t.co/UtnCpKDEK7

— Wall Street Journal (@WSJ) 14 August 2016
It is unclear whether the suspect fired any shots – and his race and name have not been released.
The police officer involved has been placed on administrative duty during an investigation.
There have been protests in several US cities in recent years over police shootings of civilians.
Saturday's incident comes after a violent night in Milwaukee, when five men were killed in nine shootings across the city.