Venezuela and Colombia agree to re-open border crossings
Comments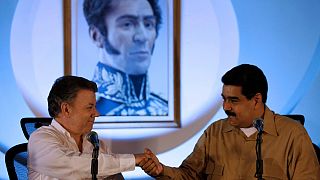 border to re-open along five crossings to pedestrians
to remain open for 15hrs per day
full re-opening under discussion
Venezuela and Colombia have agreed to partially re-open their border. It comes a year after Venezuela sealed it off in what President Maduro said was a crackdown on smugglers and concerns over security.
The partial reopening will allow pedestrians to cross at five points along the border for fifteen hours a day (5am to 8pm) starting Saturday.
Apertura de frontera #Colombia – #Venezuela será de manera gradual y en 5 puntos. Dicha apertura tendrá un horario entre las 5 a.m. y 8 p.m.

— Mindefensa Colombia (@mindefensa) August 12, 2016
The Colombian president said that negotiations would continue to allow a full reopening of the border, a sign of warming relations.
The U-turn comes as Venezuela is experiencing severe shortages of basic foodstuffs and medicines, amid a crippling economic crisis caused by the crash in global oil prices. Opponents are seeking a recall referendum that could oust Maduro, claiming his socialist government is to blame for the mess. He puts it down to the fall in oil prices.
Last year the border closure sparked a major diplomatic row. President Maduro accused Colombian paramilitaries, smugglers and right-wing foes of causing shortages in his country, in an attempt to sabotage his leftist government. The porous 2,219-kilometre (1,379-mile) border shared by the two countries is frequently crossed by smugglers moving price-fixed goods from Venezuela to Colombia for profit, as well as illegal armed groups.