Third gold swimming medal for Ledecky on Day 5 of Rio Olympics
Comments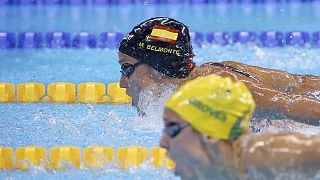 On Day 5 of the Rio Olympics, Spain's Mireia Belmonte won the 200 metres butterfly, making her the first Spanish woman to win an Olympic swimming gold medal. Australian Madeline Groves took silver and Japan's world champion Natsumi Hoshi won bronze.
In the 4×200 metres relay, the United States' Katie Ledecky took her third swimming gold medal of the Rio Olympics, and fourth of her career. Australia claimed silver and Canada the bronze.
In the men's 100 metres freestyle, Australian Kyle Chalmers won gold with a time of 47.58 seconds. Pieter Timmers of Belgium took the silver and defending champion Nathan Adrian of the United States won bronze.
There was a shock victory in the men's 200 metres breaststroke for Dmitry Balandin of Kazakhstan as the country won two Olympic gold medals in the space of an hour. Josh Prenot of the United States claimed silver and Russia's Anton Chupkov took bronze, with a 0.24 seconds difference between the top three.