Aleppo: UN probes 'gas' attack amid pressure for longer truce
Comments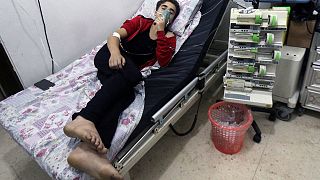 The United Nations says it is talking to Russia about getting a longer halt to hostilities, to help the two million people trapped in the divided Syrian city of Aleppo.
There has been an escalation in violence and Moscow's announced a daily, three-hour pause. But the UN wants a weekly 48 hour break, to get aid to those most in need.
It comes amid claims that suspected chlorine gas was dropped alongside barrel bombs on a neighbourhood in Aleppo on Wednesday.
Four people are said to have died, while many others suffered breathing difficulties.
"It's really not for me to assess who did it and whether it actually took place, although there's a lot of evidence that it actually did take place," said Staffan de Mistura, UN Special Envoy for Syria.
"We have a special UN and other organisation addressing that. But if it did take place, it is a war crime."
The upsurge of intense fighting around Aleppo in recent weeks has killed scores of Syrians, displaced thousands – and cut water and power.
Advances by warring sides, which have led to a siege of rebel-held neighbourhoods and the severing of a major route into government areas of control, have choked off supplies.
It has also raised fears of the encirclement of the entire civilian population.